Available
Facilities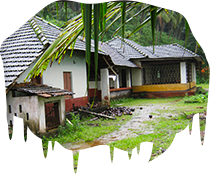 Sri Nambiar own about 30 acres of land in Thonikadavu, the view from highest point of this land is breathtaking. The Payaswini River flows majestically through the periphery of the land. The mini waterfalls in the land offers a vivid experience to the visitors.
The trekking experience through the Muliyar forest is a delight of life time. The trekkers can see the vivid fauna & flora of the area. Different types of birds can be spotted in the forest.
The 30 acres of farm land and forest offers you different atmosphere. The coconut and Areccanut plants, walnut trees etc gives you a glimpse of greenery.
An old house inside farm land is the finest resting place. The old Managalore tiled roof takes you to the by gone era.
A swimming session in the Payaswini River will give you an experience to cherish with.
You can also experience activities like coconut plucking, de husking of coconuts, watering of garden using rustic and ethinic 'Ethankotta'