About
Thonikadavu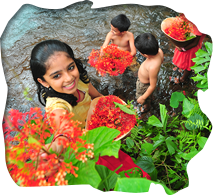 Thonikadavu in Kundamkuzy in Kasaragod District is known for its virgin forest and mist clad meadows. This place is just few kilometers away from the Historical Bekal Fort. This rustic village place is rich in vegetation and varied fauna & flora
This place offers you an unforgettable experience from the hustle and bustle of the city life.
This land is free from pollution and other environmental hazards.
The surfacing streams and cascade descending from the dale offers you a panoramic view. A walk through this lush green field will make to forget the pangs of your life.
God's own country
Kerala
Kerala is known as God's own country. Sandwiched between the Lakshadweep sea and western Ghats .It is bounded by Karnataka in the North, Tamilnadu in the South & East and Arabian sea to the West.
Kasaragod is the Northern most District of Kerala adjoining Dakshina Kannada District. Kasaragod is well known for its forts and folk lore.
The prestigious "Bekal Tourism project" is being implemented in this District.
Many resorts and Home stays are being set up in Kasaragod District.